We hiked in under perfect blue skies. South Six Shooter stands like a pillar atop a shrouded altarpiece, rising up from the desert to the heavens, towering above the surrounding landscape. We're to climb the tower as a party of four–an ungainly number to for a climbing party–but the climbing is anticipated to be easy. Reaching the summit will put us on top on of the most prominent and recognizable features in the area.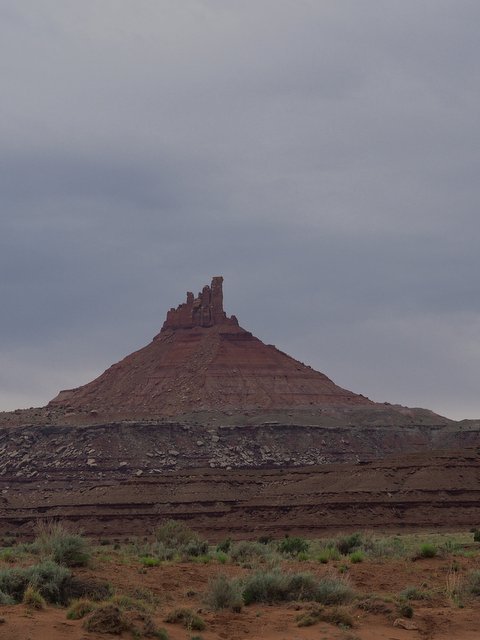 By the time my anchor is set at the top of the second pitch, it's starting to spit a bit of rain. Jon reaches the belay ledge and clips into the anchor. He shouts into the wind–"off belay!"–and I wait an interval for Melissa to tie in, midway, to the rope. Melissa is not yet in sight when I hear a sound like velcro ripping–an unnatural sound in this setting. Jon doesn't hear it–until it comes again, stronger and louder this time, like the sound of high voltage power lines. The wet sandstone that we're standing on is literally crackling with static electricity, punctuated by the sound of distant thunder.
It's a sound I know from reading of Ed Abbey's summers spent high up in metal fire lookout towers. It's the exact crackling of static electricity that Abbey describes as a hair raising presage to a lightning strike. And there's nothing we can do but belay the rest of our party up, abandon our climb, and rappel down as quickly as possible. And so we do. Vivian is the first to rappel, and I send her with a Prusik backup as a safety measure against losing control after a lightning strike while on rappel. The rock crackles menacingly as she drops over the lip out of sight.
Forty-five minutes later, we're all back at the truck, a thousand feet below the peak, toasting beer to having made it off and down without incident. The sun reappears as we drive back to camp at Creek Pasture.