Speaking of tourists … where are the tourists? Everywhere I've been so far has seemed a ghost town. Egypt, understandably so, in light of its recent revolution. (Still, it was quite surprising to visit the pyramids at Giza and not find crowds.) I also get the sense that Egypt may have overbuilt its tourist capacity, even for the best of times (visitation was growing at ~10% per year leading up to their revolution in 2011). So, I get that.
But in Kenya, too, the guest houses are empty. It used to be that safaris needed to be booked months in advanced. When I arrived, operators were beating the streets to find people to join their tours. And, while on safari, we were always the only group in facilities that could easily have accommodated a dozen.
In Uganda, it's much the same, at least where I've been in Jinja and its nearby village of Bujagali. Here, much of the adventure tourism, which was thriving up until 2007, has disappeared under the backwaters of the Bujagali Hydroelectric Power Station. Completed in 2007 (constructed with money on loan from the World Bank), the dam completely drowned over half of the incredible rapids and waterfalls that made Jinja a world-class kayaking and rafting destination. (The White Nile below the dam is still quite incredible, but the White Nile is half of what it once was, in terms of international kayaking and rafting appeal.) Adding insult to the matter, the dam's electricity doesn't even illuminate Ugandan homes, being primarily sold overland to neighboring Kenya.
I wish I could have captured the image of walking along the dirt road in Bujagali at night, past a group of small shops (seemingly made of scrap lumber), each burning a candle for illumination, having no electricity, and looking quite small under the massive high voltage power transmission tower behind them.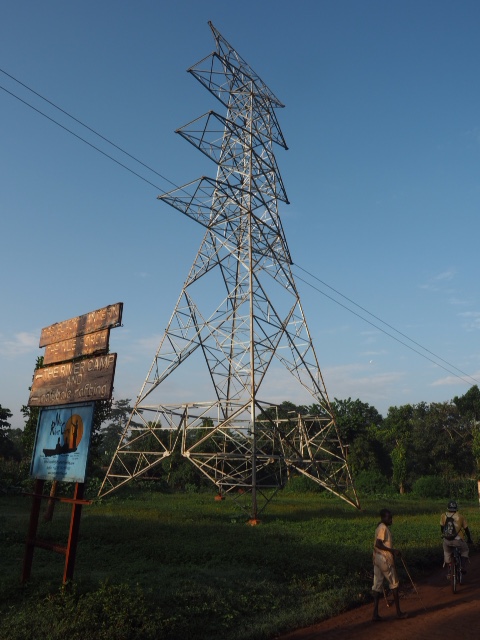 As an aside: there's another image I'll never forget, and wish I could have captured with a camera to share. After our day of kayaking on the White Nile, we took out below Itanda Falls. Me, my guide, and our two kayaks and gear were to be ferried back to Bujagali base camp by the two 100cc motorbikes who brought us to the put in. Byron (my guide) and I are riding three-to-a-bike on the first one with its driver. The kayaks, bulky and brightly colored plastic things that they are, are stacked on the back of the second motorbike, perpendicular to it and a little lop-sided–looking very much unwieldy. We're taking a muddy and rutted dirt road through a rural village. We come upon a herd of cattle being driven in the street, filling it and spilling out onto the very porches of the small huts on either side of the road. There's no getting around, so we must go through. Imagine the scene of the motorbike with the bright, bulky, plastic kayaks strapped to it, and its driver, in flip-flops, a big red trucker's hat and a shit-eating grin, weaving through the cows, sliding and slopping in the mud, dodging cows, calves, horns, and barely keeping upright!
My impression is that tourism is down throughout East Africa at the moment due to some of the isolated violence and unrest in the greater region. I believe that Americans (and I've been guilty of this myself) tend to see Africa as a monolithic whole (like Australia), rather than the vast continent made up of fifty-five distinct nations (like Europe) that it is. This, when we read of violence in South Sudan or Al Shabaab terrorist violence, we think that the whole of East Africa is dangerous, violent, spoiled by unrest. Being here, I can tell you that it's not the case. Nevertheless, I think that violence in any part of Africa (or greater East Africa) likely harms tourism throughout the entire region.