If there's a dog on my mind, it would have to be Izzy. She's a six-year-old, blind Weimaraner, who is currently (and constantly) trying to climb into my lap. Kendra and I (okay, mostly Kendra) are providing a foster home for the local Weimaraner rescue. We've had Izzy for five or six weeks, now.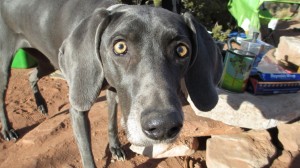 There's a story (probably apocryphal) of MSU ag students who once led a cow all the way up the stairs to the top of the bell tower atop Montana Hall. It was a great prank, until realizing that there was insufficient room for the cow to turn around at the top of the stairs, and, worse, that the cow would-not, could-not walk down backwards. (In the version of this story popular with MSU Orientation Leaders, the cow was rescued by crane!)
So it is with blind dogs. We took her to the Creek (that is, Indian Creek–a popular climbing area about an hour south of Moab. Pictures here.). She had little trouble navigating the the approach hike up the broken and steep Chinle formation–but coming back down was treacherous for all involved.
—
The outlook for this winter is becoming increasingly distressing. According to OpenSnow (run by a local skier-meteorologist cum entrepreneur), only 2 – 4 seasons in the last 30 years have had so little snow to date–and of these, half were warm winters with less than average snowfall, and the other half were average winters. Not a good start to the season.
Alas. At the very least, the temperatures have been cold enough for snow-making. Keystone just opened up a few more runs. It'll likely be a zoo tomorrow–but, hey, it's skiing!